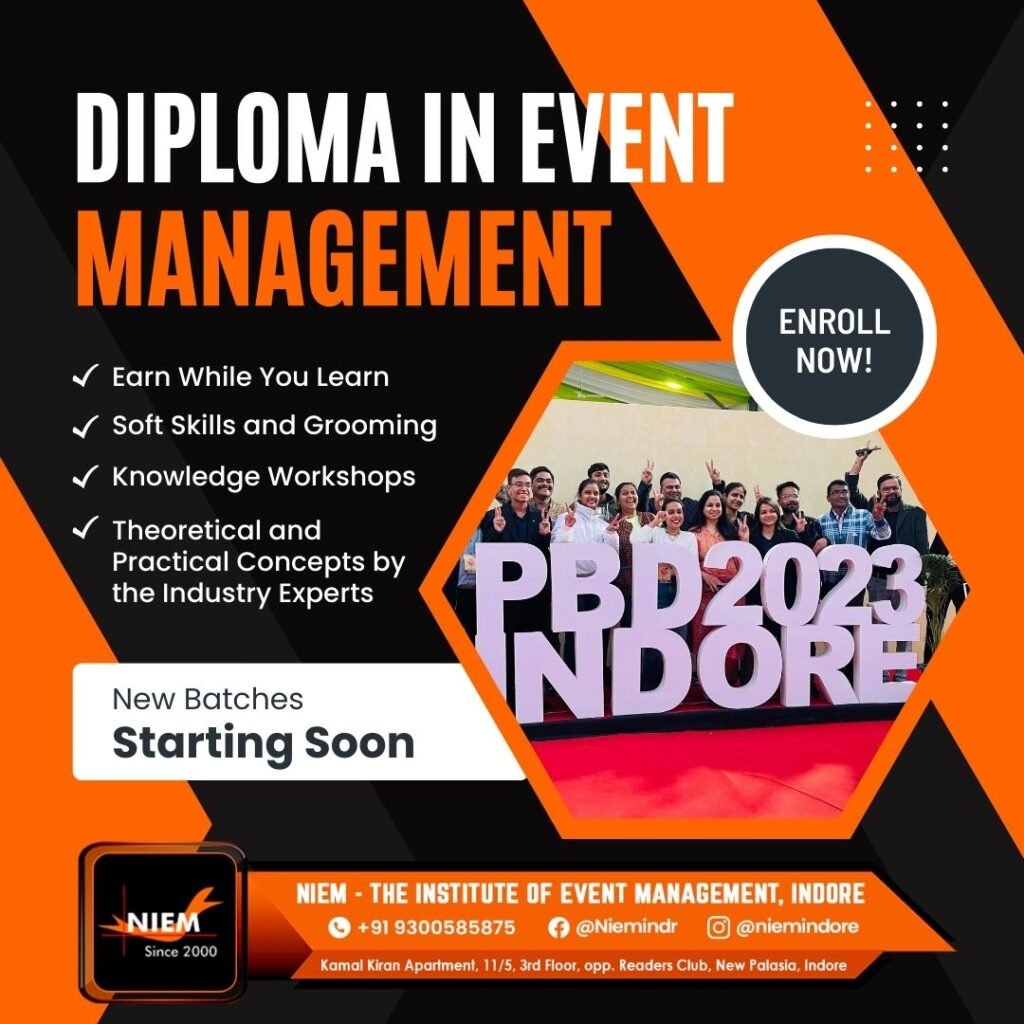 Course in event management
Diploma in Event Management
Why DEM?
By enrolling in DEM, you will gain comprehensive knowledge and skills in event management that can be conveniently pursued without disrupting your regular studies. Upon graduation, you will be well-equipped to start a successful career in the event management industry, with the added advantage of better placements and higher compensation packages. Therefore, while still studying, pursuing DEM at NIEM can serve as an excellent additional qualification for students seeking a high-profile career in event management.
Post Graduate Diploma in Event Management
Why PGDM?
This course is specifically designed for individuals who are in their final year and have made the decision to pursue a career in the event management industry. Our program is uniquely structured to provide students with a solid foundation of knowledge and skills required to establish a successful career in event management, either through lucrative job placements or by embarking on an entrepreneurial journey to launch their own event management company.
70% PRACTICAL WITH AN EXPERIENCE ON 25 EVENTS DURING 1 YEAR The training is given across all the categories of events like: 
Private Events: Weddings, Parties, Get together, Festival Celebrations Musical nights. 
Corporate Events: Conferences, Seminars, Training programs, Welfare programs, Company annual day celebration, Trade fair, Expo, Inauguration, Product launches Sponsored and fundraising events: Marathon, Charity activities like auctions, Auditions, Concerts, Political events. 
Educational Events: Schools and Colleges. the event, Educational fair, Educational Workshops, Motivational speech, Annual Sports day celebration 
The course comprises 30% academic training delivered through classes that are spread over a year with approx. 100-150 sessions. 

Convenient class timings matched with college timings 

Assignments will be assigned after the completion of each module.

 The program includes workshops and seminars conducted by industry experts 

An offline examination will be conducted upon completion of the course
One Year Full - Time Course In Event Management